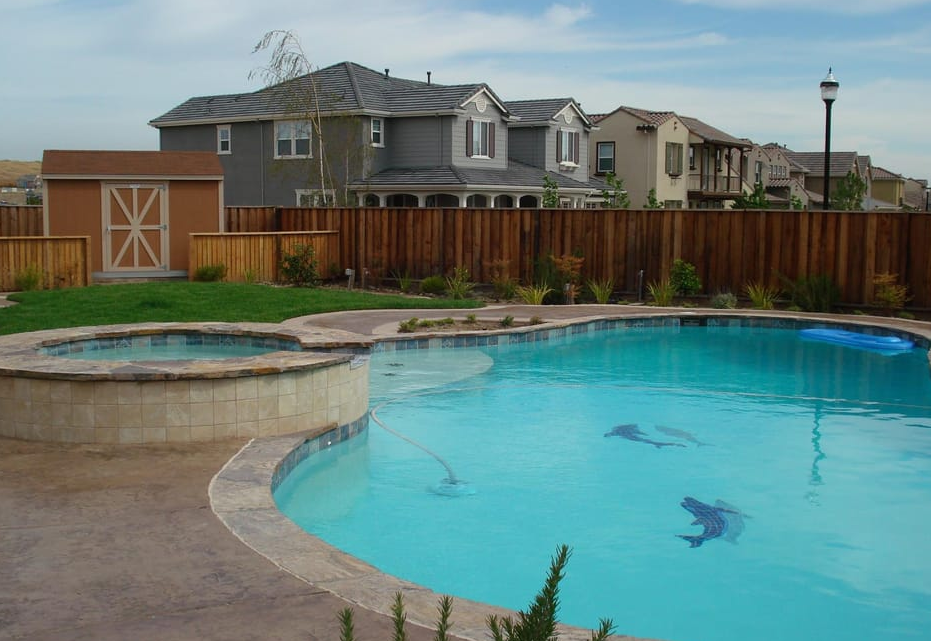 There is nothing as cooling and refreshing as taking a swim, especially on hot summer days. Everything you touch is hot; concrete driveways, patios, sidewalks, and sometimes even the very pool deck you walk on before diving into the pool. On top of that, pool decks can also get slippery when wet posing danger to your loved ones when swimming.
To tackles these problems, cool decks were invented.
Contact us at 949-899-6146 to know more about Lake Forest pool deck. Call now and get free estimates.
What is a Cool Deck?
It is a special material applied over the stronger concrete base, usually during its curing, to significantly lower the exterior surface temperature. Cool decking also adds to aesthetics as they come in various hues and patterns to match your taste. They can also be textured or stamped to provide extra traction to avoid slipping. 
Cool decking is extremely durable, waterproof, and stain-resistant, making it a much better material for your pool deck than basic concrete, stone, or even tiles. 
Cool Deck vs. Kool Deck
While these two terms may be used interchangeably on various websites, they are not the same. Kool Deck is the name for a specific premium trademarked product, while cool deck is a general term for the material. 
Kool Deck serves the same purpose as any cool deck; however, it's dominance in the market is a tribute to its outright superiority over other alternatives.
Kool Deck reduces surface heat at an unmatched level and provides a lot in terms of aesthetics. It can be stamped to mimic natural stone, travertine, granite, or even slate. This way, you can create a natural look around your pool at a fraction of its price if you used the actual materials.
Kool Decking will also protect the underneath substrate from thermal expansion and contraction during sharp weather changes. Undue stress from expansion and contraction can weaken the substrate and lead to spalling and cracking issues.
With these attributes, Kool Deck can also be ideal for any outdoor concrete surface such as the driveway, patio, and walkway. It's the best application; however, it is the pool deck.
Tips for your Pool Decking Project
First, when it comes to pool decking in Lake Forest, it is best to look for a contractor. You may be tempted to save money by doing it yourself, but chances are you will end up with a botched job.
Also, when looking for a contractor, be sure to check their credentials to ascertain their qualifications. Cool decking is a highly delicate process that requires the very best craftsmanship.
Finally, do contact Lake Forest Concrete Pros at 949-899-6146 to get your project started. We will help you create an outdoor oasis for you and your loved ones.